Paths to a professorship – 23 interviews
For students and researchers trying to plan their future careers, the paths taken by current professors can provide good role models. Insights into diverse contemporary academic careers are very valuable tools in this process.
Inspiring Conversations with Women Professors by Anna M. Garry, published in spring 2019, offers a compact look at the different career paths that female professors have taken in fields such as mathematics, computer science, the natural sciences and technology. The 23 professors interviewed in the book have different family backgrounds, and they come from 11 countries spanning Europe and South America, as well as the USA, Russia and China. Sixteen of them now have professorships at ETH Zurich. Their childhoods, educations and career steps in different countries have shaped the curriculum vitae of these successful female researchers. They openly discuss their individual career and family decisions, which makes for reading that is both interesting and entertaining.
Finding your own way
"Reading about the paths the professors have taken will help me plan my own research career," say the readers* we asked about the book. "I usually make decisions on career steps by asking others about the basis for their decisions and then evaluating their answers as they relate to my own plans. This book gives me quick access to many different personal paths. I found their honest answers really inspiring and impressive; sometimes they even overwhelmed me a bit. If things aren't going too well for you, you might have to put the book down for a moment and take a few deep breaths – it's full of top-class success stories where difficulties tend to stay on the sidelines. But the enthusiasm for research that the interviews communicate so clearly makes you quickly read on."
Insight into research
The interviews with the professors offer insights into their respective research areas. At the same time, their approach makes their enthusiasm for research tangible. How can I carry out the research I am enthusiastic about? How do I ensure the funding of my projects? Who is supporting me? Which partners and mentors bring me closer to my goal? Where will I be taken seriously? Vital questions and answers at the beginning of a career. "Actually, I was hoping for a clear blueprint showing how I can best plan my academic career. But I didn't find that in the book. Instead I learned something more valuable, which also takes some pressure off of me: Ultimately, I have to find my own way, trust myself and remain open to unexpected opportunities," was a frequently formulated feedback from readers.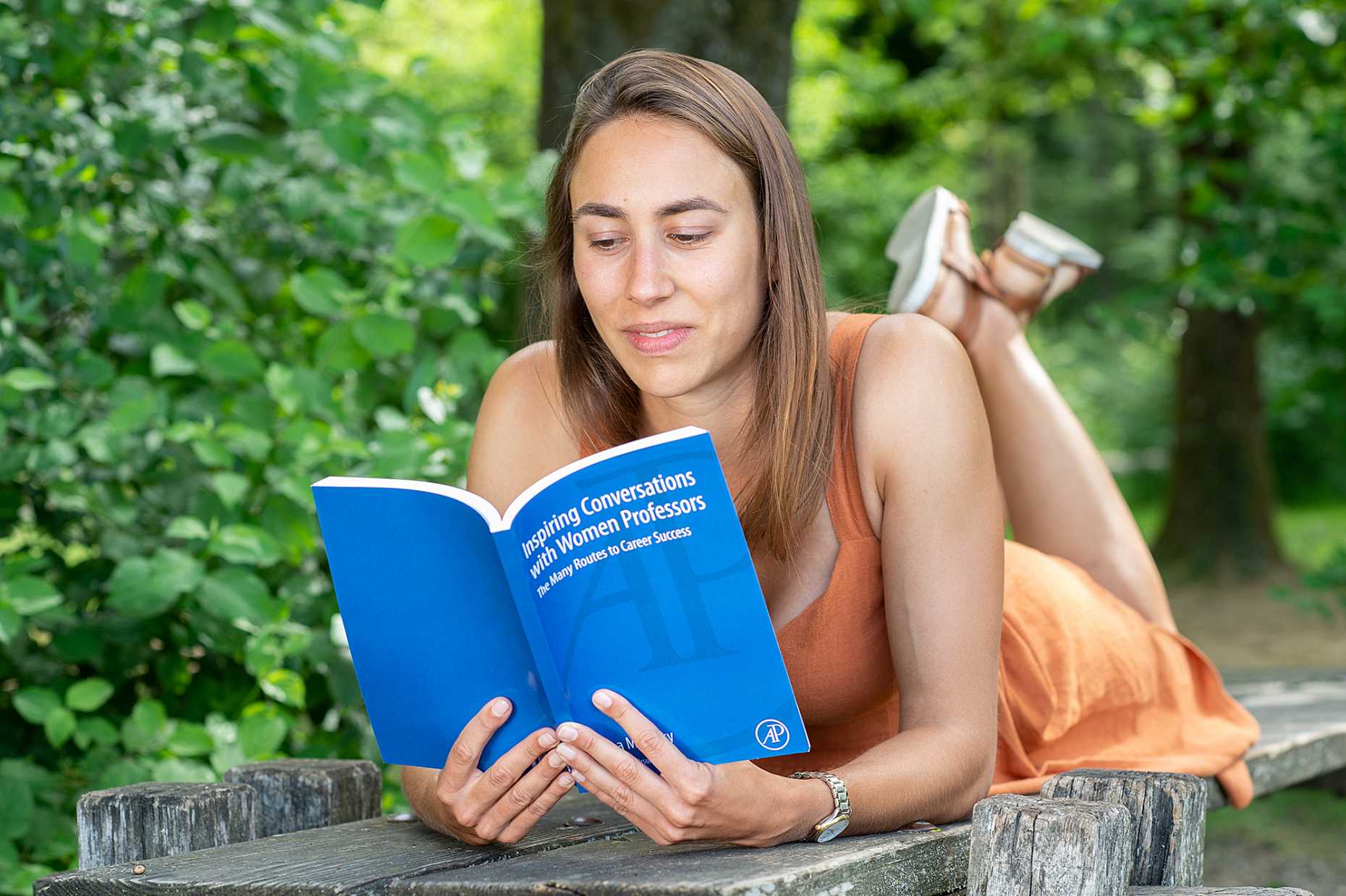 A fun, accessible read
"I can easily take this book with me to read when I'm out. It's also good for browsing," says one of the readers. "Through the chosen form of interview, I learn something about the professors' personal histories – I consider this a good supplement to their role in the lectures. At first I thought an abstract career guide might lie beneath the inconspicuous cover, but it's much more engaging than that." The author, Dr. Anna Garry, is well acquainted with the research environment and the needs of students and researchers in postdoctoral positions. She structures the rich content logically and writes smooth, readable English; this makes the book suitable for non-academics and people who rarely read English as well. "The author's attitude is evident, and she is open about her method. I was also impressed by the summary: Garry draws clear conclusions from the many different career paths and summarizes the professors' recommendations in 11 clear points," several readers note.
Contemporary role models
For members of an established group, the difficulties facing an outsider are hardly noticeable. The book sensitizes readers to how these situations play out in everyday life. It might also answer the frequently asked question: What else do women want, don't they already have it all? It shows some of the compromises involved when both people in a partnership support each other's careers. It also serves as a basis to discuss contemporary role models for organizing career, family and responsibility in a partnership. "I would also find it exciting to read about male careers in a similar format," say two readers. Another reader wish was to hear more about researchers coming from other continents pursuing academic careers in Switzerland – foreign researchers, regardless of their gender, seem to view Swiss society as a special challenge. Who knows, perhaps this book will inspire a series and another one will follow soon.
* The text includes feedback from nine people in STEM fields, ranging from Bachelor's students to postdocs.